Articles
Details

Category: swordpress.com.ng
Published: 10 September 2019
Hits: 1986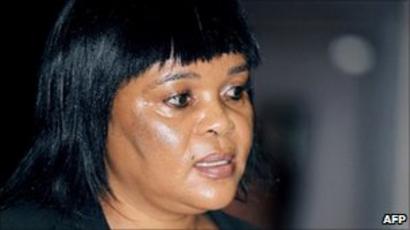 Sheryl Cwele, the wife of South Africa's intelligence minister, has been sentenced to 12 years in jail for drug trafficking.
Cwele, married to Siyabonga Cwele, was convicted of recruiting women to smuggle drugs into the country.
Her accomplice, Nigerian national Frank Nabolisa, received the same sentence.
Allegations of drug trafficking surfaced in 2009 after the arrest of a South African woman caught in Brazil with cocaine worth $300,000 (£200,000).
Tessa Beetge is currently serving an eight-year jail sentence in Sao Paulo.
She was found with 10kg (22lb) of cocaine in her luggage.
There was a solemn atmosphere at the Pietermaritzburg High Court on Friday when the pair arrived for sentencing, South Africa's Times newspaper reports.
Delivering the sentence, Judge Piet Koen described their offences as serious.
"Many families are affected by drugs which are brought here illegally. They suffer as a result of dealers who often initiate addiction by constant supply and thrive on that addiction," he said.
The pair, who had pleaded not guilty, say they will appeal against their drug-trafficking conviction – and can remain at liberty until the appeal hearing.
They could have received up to 15 years in prison.
Opposition parties have called for Mr Cwele to step down, arguing that if he is not aware of his wife's illegal activities, he should no longer be in charge of the country's intelligence-gathering.
"Either the minister knew about his wife's operation to distribute hard drugs and benefited from it," opposition Congress of the People spokesman Phillip Dexter said in a statement posted on the Polity.org.za politics portal.
"Or he did not know about it, casting aspersions on his competency for the role of minister of state security.
"Either way, this entire episode is an embarrassing blow to the reputation of South Africa and its government," he said.
Mr Cwele says he will not comment on the case until after the appeal has been heard
How useful was this post?
Click on a star to rate it!
Average rating / 5. Vote count:
As you found this post useful...
Follow us on social media!
We are sorry that this post was not useful for you!
Let us improve this post!
Thanks for your feedback!